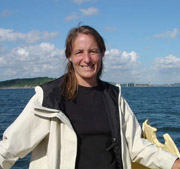 Indoor & outdoor team building games, experiential activities, QR Code hunts, a tour app and Geocaching challenges for corporate & school events, private parties, civic programs and town-wide celebrations. Contact us to turn your next event into an exciting, all encompassing treasure hunt adventure using custom cartography, hi-tech GPS technology, teamwork and strategy.

For over twenty five years, smart business people, innovative educators, parents and adventurers of every sort have turned to Ultimate Treasure Hunts to create and facilitate customized treasure hunts (re: not just scavenger hunts) and amazing GPS races for kids' parties, family reunions, corporate conferences, civic events, and school programs throughout the country. What they've all experienced is having made the right choice and incorporating a uniquely energetic and memorable element into their event plan through Ultimate Treasure Hunts.
Founder & President Founder and President, Deborah Humiston, has been competing in, organizing events and teaching orienteering skills for over 25 years.

From the experience of competition and her expertise in working with people of all ages came the incentive to establish Ultimate Treasure Hunts in order to bring the type of learning and fun that enhances self-confidence, decision making, team spirit and awareness of one's surroundings." I found that kids of all ages were very open to the lessons that orienteering, navigation, and map skills offer; philosophically relating to life and "finding one's way."

Deborah lives in the seacoast area of New Hampshire.