We had a great turnout and amazing fall weather in Allenstown, NH, for the weekend of October 19 and 20. Young people are discovering this sport has personal challenges not limited to physical ability. The social aspects, self improvement and mental development are unsurpassed by any other sport.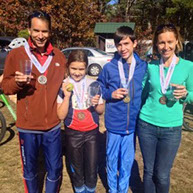 Registered runners came from Europe, Canada, and all across the US. Continue reading →
On September 24 and 25, Deb Skelley's and Barb Giroux's physical education classes at Kingswood Regional Middle School were introduced to the Olympic sport of orienteering by Deb Humiston, a U.S. rank orienteer, instructor, adventure racer, and map producer. According to Humiston, most people are introduced to orienteering through scouts, where they learn a type of wilderness navigation used by the military. Continue reading →
Waterville Valley, NH. Ultimate Treasure Hunts participated and had an exhibit table at the New Hampshire Association for Health, Physical Education, Recreation & Dance Convention. It was an opportunity to tell New Hampshire Educators what we offer.
Reading, MA. Ultimate Treasure Hunts created a map game for 75 boys and girls from age 5-12. We had light rain and typical New England early summer weather, but kids don't care! We set the chest up indoors and dodged the raindrops. The kids learned about maps and had a great time!

We donated a day of fun to a great organization that finds mentors and friends for thousands of children every day. The bigs and the littles came to learn how to read a map, look for clues, and solve the puzzle to win prizes donated by WOKQ.
This modern, country rock station volunteered their morning show hosts to meet and greet the public on a beautiful fall day. Continue reading →
NORTH HAMPTON – Orienteering is a mind and body workout that has been called "the thinking sport" and "cunning running." It involves navigation through woods and fields, and the only equipment needed is a map and compass.
A spirit of adventure helps, too, which 11- and 12-year-olds have in abundant supply. Continue reading →