We donated a day of fun to a great organization that finds mentors and friends for thousands of children every day. The bigs and the littles came to learn how to read a map, look for clues, and solve the puzzle to win prizes donated by WOKQ.
This modern, country rock station volunteered their morning show hosts to meet and greet the public on a beautiful fall day. Charmingfare Farm offered hay rides, a petting zoo, as well as wild animals from near and far.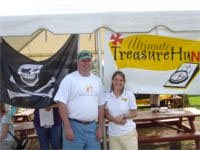 WOKQ conducted a grand prize drawing and gave away a 25″ flat screen TV. Oakhurst Dairy gave away free orange juice and Ultimate Treasure Hunts provided a unique way to spend time with people you care about, be outside, and enjoy nature– all while learning about maps!! What could be better?